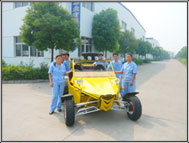 Klung Industry Co.,ltd,a leading Chinese manufacturer of off-road dune buggies and utility vhiecles (UTV) ,established in 2006 , keep developing the latest technology for all-terrain vehicles to exceed the expections of customers.
All the buggies and UTVs are designed together with the international partners ,featuring the latest technology and design concepts worldwide, using the best parts available in china , and representing the highest level in China.
The development and Research team have most professional mechanical and vehicles knowledge, plenty of experiences in all terrain vehicles development .They understand the importance of customers feedback and would like to listen.
Our company invested a lot of money on bringing new equipment and most of the vehicles parts are self-made by us , guaranteeing the best quality and lowest price ,which makes our products the most competitive.
Our company has standard product line,strictly applying the ISO 9001 international quality control system, which ensure we can deliver your goods timely and outstandingly.
Our company has special test meter and detailed production flow management, which eliminate every possible quality flaw before shipment.
Klung is a big family where everyone work hard together toward the same target ,regardless the background difference.
Our full experienced sale and service stuff ,are ready every time to answer your questions ,to provide the best support to for after sales service
We keep joining all kinds of race event to prove our quality and make every details perfect.
Join us, let us share the fun of success.
Klung buggy ,the Real Maní»s Toy, The Real fun of success !